Spring is the season that signifies newness and reinvigoration. The world is bright and fresh, much like how we hope our home to be. Spring cleaning has become somewhat of a ritual for the world and offers us a chance to declutter and deep clean.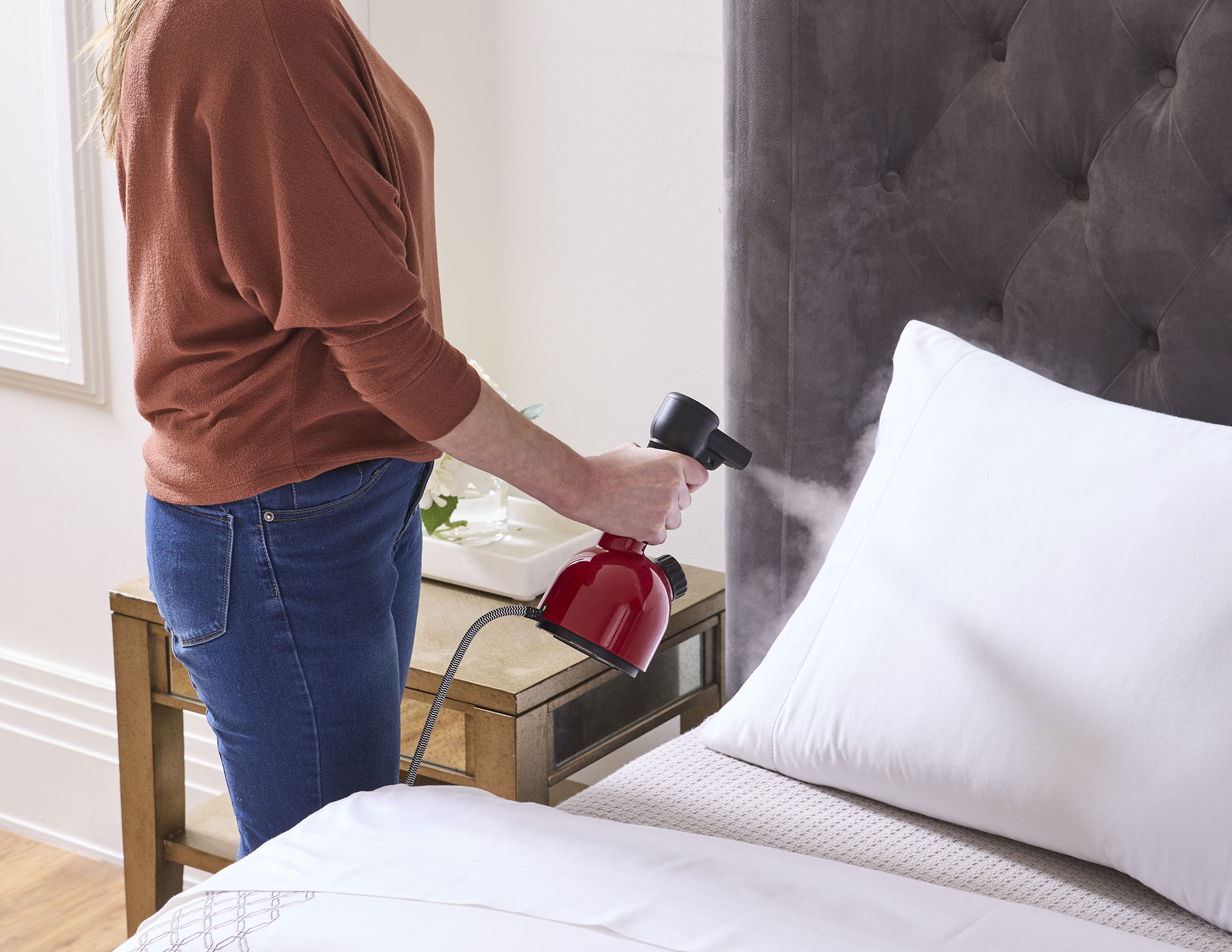 While we know you have a bucket filled with yellow rubber gloves and disinfectants, we'd like to add a 2-in-1 device to your inventory (it may even replace a few items for you!). Enter IGGI, our one-of-a-kind hygienic, hand-held steamer that packs a punch. The small, yet mighty IGGI is destined to become your spring-cleaning sidekick with its ability to sanitize and beautify fabrics. Don't miss out on the three ways to clean with IGGI this season.
Rejuvenate Your Linens
We don't know about you, but we're big fans of updating our décor with the season change. We're putting away our dark and heavy linens and replacing with light and bright!
It's no secret that fabrics can get a little wrinkled when they're in storage. No one wants to hang crinkled sheer curtains or stuff a pillow into a creased pastel cover. If you didn't know, IGGI is the first portable, hand-held steamer, meaning it can go anywhere in the house with you. Steam out wrinkles in any fabric from curtains to your springtime outfits.
De-Stink Your Couch
On top of a long winter, it's been two years of working from home and binging plenty of TV shows on our cozy couches. With the couch becoming a hub for humans and pets alike, chances are you have noticed an odor.
The fabric on your couch and/or pillows can absorb a variety of scents, oils, and dust that offer a less than desirable aroma. Thankfully, IGGI can help both clean and disinfect to give you a good-as-new seat by steam cleaning.
You'll want to start off by vacuuming your couch to remove any leftover crumbs, hair, fur, or dust. Then you can use IGGI to steam and sanitize your couch's fabric, eliminating any odors. Allow to airdry and enjoy! While IGGI is safe to use on most fabrics, please check your upholstery's cleaning instructions before using.
Disinfect High Touch Points
From door knobs to gym bags, there are a lot of surfaces that are frequently touched by multiple people. However, these don't get cleaned as often as they should.
Bacteria and viruses can live on these areas for a variety of time and require regular cleaning. If you're looking to avoid chemical sprays and wipes, the IGGI is the perfect solution for disinfecting these surfaces. The IGGI uses Dry Microfine Steam instead of chemicals to naturally kill nearly all viruses and bacteria. Yes, that includes coronavirus.
Anyone else feeling ready to tackle spring-cleaning in a few simple steps? Snag an IGGI for yourself and put it to the test!