Adapting to the current times while remaining who we are. A more active lifestyle, a desire to change and outfits that match your mood or the time of day. According to new habits too, with a greater awareness of hygiene. In the morning, we need to iron quickly, while in the evening, we need effective decontamination. And this is where the new generation of laundry care comes into play: the perfect choice is steaming.
Simple and practical, steamers date back to the 1940s. At the time, they were used to reshape hats and were mainly intended for professionals. Later on, and particularly in the 1990s, it became more accessible, while providing fashion with a practical, last-minute finishing touch. It has since entered the lives of ordinary people thanks to the research and development of more manageable and increasingly powerful devices.
Innovative and portable, steaming has revolutionized the way clothes are cared for on a daily basis. Before going to work or a last minute meeting, it makes life easy!
DISCOVER VERTICAL STEAMING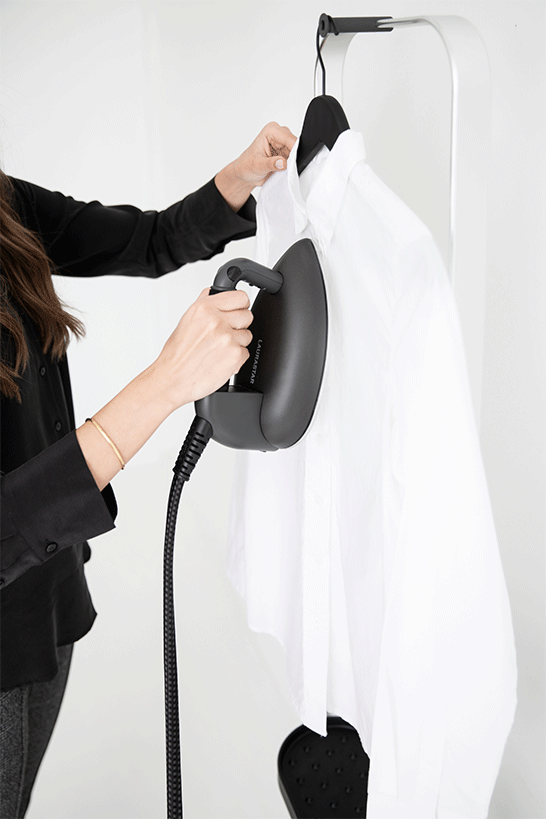 Change the way you look at laundry care: whether it's a question of sanitizing a garment, enhancing it by removing creases or refreshing a tired outfit, vertical steaming will revolutionize your daily life. Already used in the world of fashion, dressmaking, and clothing stores, this technique gives you flexibility, wherever you are!
The idea is to allow the steam to work without your device coming into contact with the item. By only using steam, almost all types of fabric can be steamed and purified: cotton, viscose, and polyester, as well as most delicate materials, such as lace, microfiber, cashmere, or silk.
Natural materials such as silk, angora, and wool, or plant-based materials such as linen and hemp are also more suited to steaming than ironing, which is sometimes too hot. The fashion designer, Guo Pei, uses Laurastar steam to refresh her creations just before unveiling them to the public at the most prestigious fashion shows. For instance, Laurastar steam was utilized on the pineapple hemp that she artistically crafted for her Haute Couture Autumn-Winter 2019-2020 collection.
CHOOSING THE RIGHT EQUIPMENT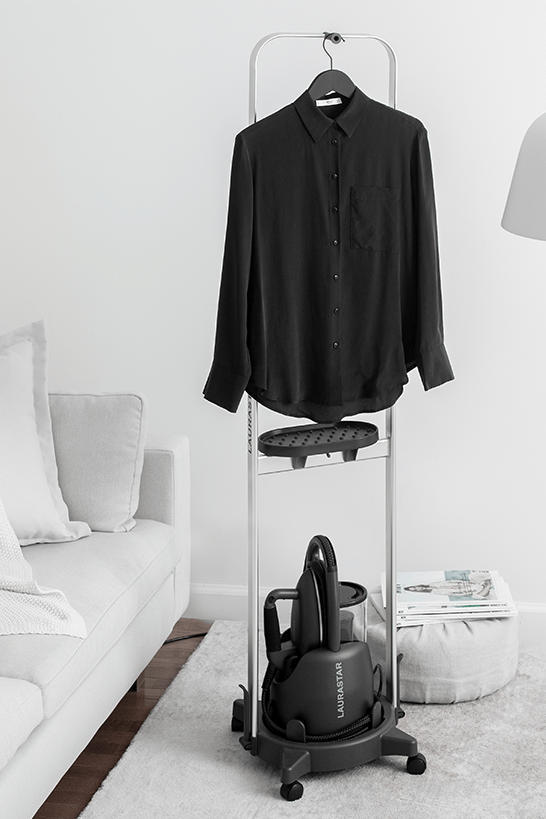 Vertical steaming is possible anywhere; all you need is the right appliance, a stand and water, nothing could be simpler!
Choose somewhere that will allow you to move around your garment easily. Take your steamer or steam generator and a hanger.
You can steam directly onto the item while holding the hanger in your hand. When you want to put it down, simply find a hook on the back of a door or the edge of a cupboard and attach your hanger to it.
To make the experience even faster and easier, the Laurastar Steam Cart is an essential accessory for your Laurastar Lift steam generator. Thanks to its easy mobility and ergonomic design, it allows you to purify and steam your clothes in the blink of an eye.
Finally, fill the tank, plug in your device and follow the guide below (3).
TAKE THE RIGHT STEPS
Place your jacket, blouse, shirt, or trousers on a hanger.
To keep one hand free, attach the hanger to your Steam Cart or to the hook of your choice.
First, spray steam a few times away from your clothing to check that the device is working properly and to release any built-up condensation.
Place your iron a few inches from the fabric and spray the steam towards it. Steam using vertical movements, from top to bottom. Repeat the process until the creases disappear with the magic of the steam. A great result can be achieved in just a few seconds.
For even faster steaming, use your free hand to keep your item stretched down. Pulling the fabric tight reduces creases and increases steam efficiency.
Repeat the steps section by section: the back, sleeves, and front of the jacket or shirt as well as on hidden parts such as the inside of trouser legs. The steam passes through the fibers and removes creases from both sides of the fabric.
If one part is particularly creased, just apply the steam for slightly longer.
Steaming is an elixir of youth for your wardrobe with the added benefit of providing freedom. Keep in mind however that steaming does not replace ironing, which removes creases deeper and gives you a perfect result.