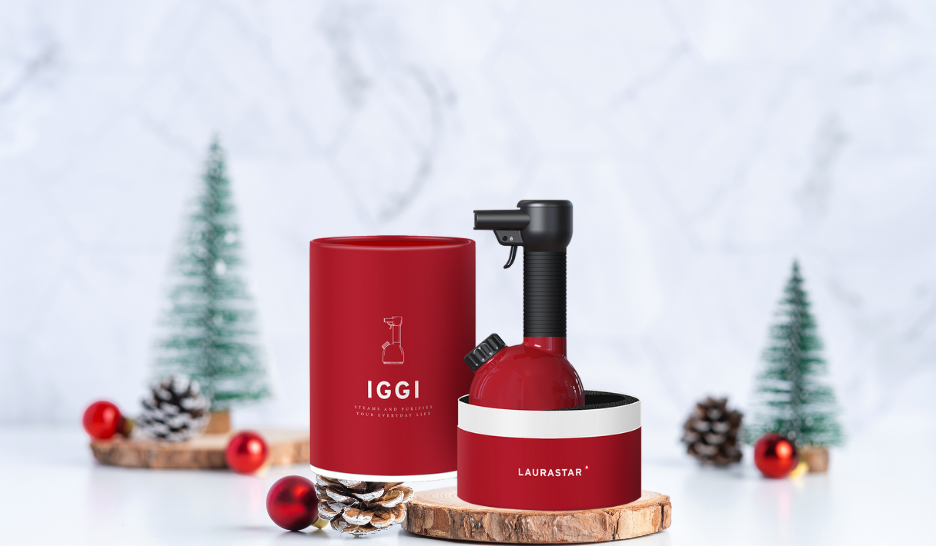 The holiday season is in full swing, which means it's time to prep your home – and everything else in your life – for a busy and celebratory season. Of course, keeping your home clean and in top shape during all of the hustle and bustle of the holidays can be a bit challenging. So, we're bringing IGGI, our new portable handheld steamer, to the rescue! With this amazing and compact steamer, you can do it all – steam and de-wrinkle fabrics while sanitizing clothes, surfaces, and objects.
Now, grab your new best friend (that's IGGI!) and get ready to have everything in your home beautified and purified for the holidays in no time with these simple tips:
Cleaning Fabric Surfaces – We are so in the habit to wipe down tables, vacuum the carpets and scrub the floors, that we often forget to that our fabric surfaces need some attention as well. IGGI is great for quickly disinfecting and purifying textiles like your couch cushions, bedding, and pillows! Feel at ease that anyone coming into your home is cozying up comfortably to fresh and clean fabrics.
Toys – Getting together for the holidays means needing to pull out all the toys and distract the little ones running around! Whether you're digging them out of storage or cleaning them up from an earlier play time, the purifying DMS steam of the IGGI is proven to be equally effective on toys. Cross the worry of spreading germs off your list and look forward to spending time with friends and family while the kids enjoy spending time together burning energy and creating memories.
Last Minute Outfits – Your time leading up to hosting for the holidays is jammed packed and the last thing on your mind is finding the perfect outfit to throw together. No need to stress knowing whatever you decide to throw on will be wrinkle-free! Steam and iron your favorite holiday outfits in a matter of seconds with the power of IGGI! The dry steam allows fibers to relax and naturally smooths textiles, so you can walk into your party with your head up and your clothes looking fabulous.
Post-Party Disinfecting – Personally, we think you deserve to leave party clean up until the next day, but IGGI can help you end the party knowing your home is sanitized and free from the germs your guests may have left behind. Door handles, glasses, tables, chairs or whatever else you feel may need a quick refresher, the Laurastar DMS steam disinfects deep into fibers and surfaces killing 99.9% of viruses (including coronaviruses), bacteria and 100% of dust mites.
Are you ready to give yourself the gift of simplified holiday cleaning this year? Shop online and get your IGGI today. (And IGGI makes a great holiday gift for your loved ones!)